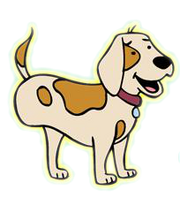 KC is a three-legged character from Clifford the Big Red Dog. He has only 3 legs. It is unknown whether he was born with 1 leg missing, or if he had an accident. He is a minor charactor who appears several times in the series. He first appeared in the episode "A New Friend". In that episode, he was just visiting Birdwell Island. He is chill and he has a beautiful outlook towards life. He is positive. Which is cool. He appears to be young which is okay! He is missing a paw and leg. He has a tree trunk stub in place. (Born: October 3 1993
KC's job
In the episode "Beachball Star", KC says that he is going to live there. KC is a helping dog. He helps his owner's mother by getting water for her, and many other stuff too.
Ad blocker interference detected!
Wikia is a free-to-use site that makes money from advertising. We have a modified experience for viewers using ad blockers

Wikia is not accessible if you've made further modifications. Remove the custom ad blocker rule(s) and the page will load as expected.